About us
Dento-Kai Karate was established in 1985 by brothers Lee and Peter Coffey. They started training in 1978 after being introduced to karate by their dad (Peter Coffey Snr) who had trained for a number of years himself. He had enjoyed the benefits of karate training and was keen for his two sons to follow in his footsteps.
Shortly after taking up karate, Lee and Peter attended a three day training course under a prominent Japanese Master, the late Shigeru Kimura. Master Kimura taught the style of Shukokai Karate, a style renowned for its fast, explosive techniques. Lee and Peter were inspired so much by the Master that it is fair to say they have been hooked on karate ever since. Over the years they have both enjoyed successful tournament careers and currently hold the rank of Black belt 7th Dan.
Following in true family tradition Lee's wife, Nicola started training in 1989. Over the years, Nicola progressed to Assistant Instructor level, and then advancing on to becoming a Club Instructor. Nicola currently holds the rank of Black belt 6th Dan and is now the Senior Instructor to all of our Dojo's (Clubs) within Dento-Kai.

Lee is the Chief Instructor of Dento-Kai Karate.

Lee and Nicola's daughter, Emma, started training in 2009 when she was 5 years old, and now is a Black belt 3rd Dan. She is the third generation of the Coffey family to practice and study Karate and proves the point, along with mum Nicola, that the girls/ladies are just as capable as the boys/men when it comes to excelling in Karate. In fact over the years we have had as many success stories for the girls as we have for the boys. Karate, as you can see, is fully inclusive for everyone.
Sensei Lee Coffey

7th Dan

CHIEF INSTRUCTOR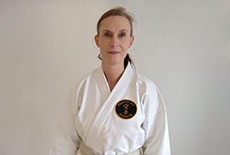 Sensei Nicola Coffey

6th Dan

CLUB INSTRUCTOR
The term Dento-Kai is a Japanese term which was carefully chosen by the founders and translates into English as meaning 'Traditional Association'. This is to recognise the fact that although karate continues to evolve, and in doing so we must embrace the future, it is equally important that we do not forget our past and the roots from which we have come from. This philosophy and approach will ensure that the traditional skills, teachings and knowledge of authentic karate will not be lost and can be passed successfully to our next generation.

Dento-Kai Karate is a full member of the British Karate Association.